Learn to Sew 3-day course with Leonie Fraser, 9th, 16th and 23rd October
$165.00
Dates: 9th, 16th and 23rd October 2020

Times for each day: 10am to 2.00pm (9.30am setup)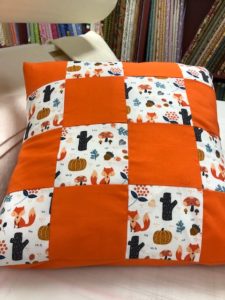 Everyone is sure to learn from these thorough classes.  The classes are aimed at complete beginners through to those who have a little experience but want to improve their sewing.  A great way to learn some textile art prior to commencing college courses, etc or for those just wishing to learn more about sewing and using your machine. Leonie will go through all the techniques you need to produce quality sewing and you will have three different projects to complete during the class.
Focus of this workshop: Learn to Sew on a domestic sewing machine.
This workshop has a minimum age of 14.
Please note: this workshop is about woven cotton fabric, and not designed to teach sewing stretch fabrics such as jersey, fleece or interlock.
Leonie's classes will make sewing for both new and experienced sewers fun. Learn how to use your machine while making some items to show off and use! Over the three days of this course you will learn how to use your sewing machine safely while we make a tote bag with pockets, a zippered pouch, and an item of your choice. Classes are aimed at inspiring sewers to learn sewing basics whilst getting to know their machines, and use their creative talents.
 Level of skill required for this workshop: Beginner learning to use a sewing machine and sewing equipment.

This workshop will develop the following skills:
Setting up and safely using a domestic sewing machine
Using a rotary cutter, ruler and mat to prepare material for sewing
Sewing a straight seam with a consistent seam allowance
Top stitching for a decorative and functional effect
Inserting a zipper and using a zipper foot
Using interfacing and wadding to provide structure
Be quick as only 4 places are available. A materials list will be provided on registration.
In stock