Introduction to Free Motion Quilting with Leonie Fraser 1 September 2020
$75.00
This course is now full
Click here to be wait listed for the next class.
Date: Tuesday, 1 September, 2020
Time: 9:30 setup for a 10:00am start until 2:30pm
Focus: Machine quilting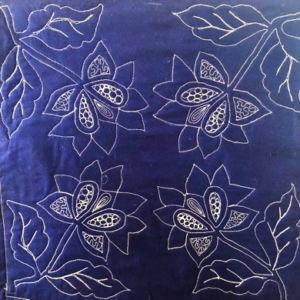 This course will encourage you to break away from straight lines with the walking foot and be a bit more creative in your quilting, taking you through the steps required and boost your confidence. You will be provided with a choice of designs to work on using material of your own choice.   This one-day session is an introduction to free motion quilting skills. The aim of the session is to provide the information and guidance to be able to use free-motion quilting on a cushion cover, and to take away the confidence to take your quilting further.
Fabric and batting will be discussed in the session and can be purchased from the store at the time of the class.  You must have an extension table for your machine for this class.
 Level of skill required for this workshop: Beginners learning to quilt.
Be quick as only 4 places are available. A materials list will be automatically emailed on registration.
To Purchase please ring the shop 6281 7555