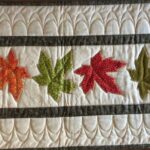 Machine Applique Table Runner with Leonie Fraser  $80
Date: Thursday, 29 October, 2020

Time: 9:30 setup for a 10:00am start until 2:30pm
Focus of this workshop: Machine Applique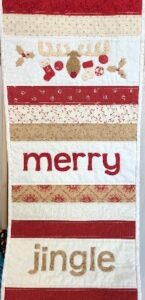 Choose to make a runner that suits your decorative style in this day that will show you how to applique on your machine using a number of techniques, while allowing you the freedom to choose what you wish to applique onto your runner.  You will be given an alphabet, so can choose your own words, and a number of different pictures already prepared for applique – but you can bring your own choices and Leonie will help you to prepare them.
These runners are constructed in smaller parts so that you will be able to choose the words and pictures that you want to include.  The sample in the top photo has been made longer by including strips from a jelly roll – you can put as many or as few strips and applique rectangles together as you like to make this runner the perfect size for your table.  You could also choose to present it as a wall hanging or individual place mats to add to your festive decorations.  The centre runner can be made as long or short as you like by adding more or less leaves – it is all able to be changed to suit you!
Level of skill required for this workshop: Suitable for beginners and all levels of experience with machine applique. 
This workshop will develop the following skills:
Understanding machine applique techniques using clear polyester and decorative embroidery threads
Choosing an appropriate machine applique technique for the task from satin stitch, buttonhole and raw edge
Setting up and working with raw edge applique for a durable finish
Using straight line quilting to consolidate the layers of a runner
How to apply binding to finish a project.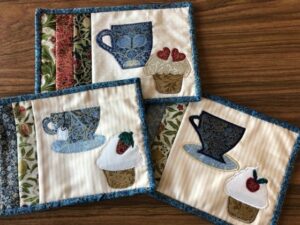 You will be provided with patterns for the letters and a variety of pictures to use for applique in the class. If you have pictures you wish to use, please bring them with you.